The Old Quarter is the cultural heart of Hanoi, where the pulse of life has been beating for nearly 2,000 years. Daily routine starts early and builds to a friendly bustle, while streets have distinct character and are named after the crafts once made there: silver, ladder, silk, paper.
GOOD MORNING HANOI
Get up early and discover the other side of Hanoi and Hanoian, witness the fruit sellers set up their wares and the children head to school in their crisp white uniforms, Tai Chi daily in most of Hanoi Parks.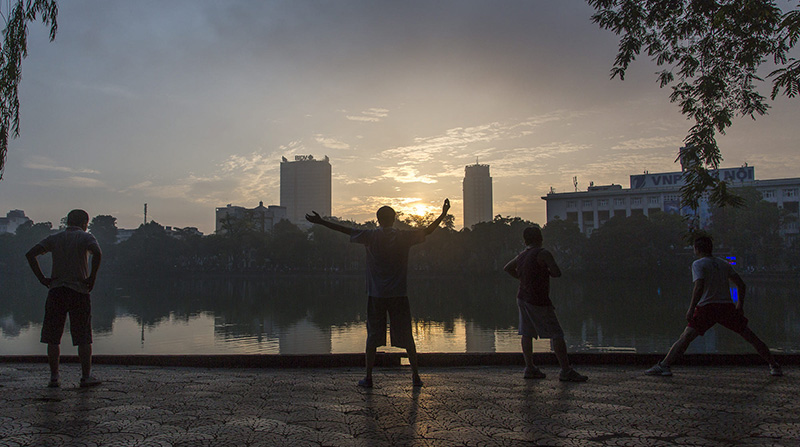 Detailed Itinerary
At 5:30am our guide will greet you at your hotel. From the hotel we will travel by taxi to where all the life is in Hanoi. First we travel to the famous flower market where hundreds of different kinds of flowers are being sold in bulk to the flower shopkeepers. From there we transfer to Long Bien bridge where, underneath is one of the biggest and busiest fruit markets in the country. Both these markets are only seen in the early morning!
Next we will travel on foot and see the Old Quarter begin to wake up. You will see street side markets preparing for the morning. We'll also make our way to Hoan Kiem Lake to witness, and maybe even take part in, people, young and old, exercising, doing Tai Chi, and jogging. As the sun rises, and the light becomes perfect, take every opportunity to snap some of the best photos of your trip!
Finish the tour with a traditional Hanoi breakfast of Pho Bo – Beef Noodle soup and a local coffee then head back to your hotel. Tour finish around 7: 45 or 8: 00.
Price
For 2 persons: 35$ / person
For 4 persons: 30$ / person
For 6 persons: 25$ / person
2. HANOI STREET FOOD TOUR
Vietnamese Street Food is one of dishes you have to eat when you go to Vietnam. A trip to this country is not complete without tasting the street food. With hundreds of food stalls around the streets, you have the chance to taste from a local delicious Pho to egg coffee, from Bun Cha to dim sum … Our professional local guide will help you to experience this great tour.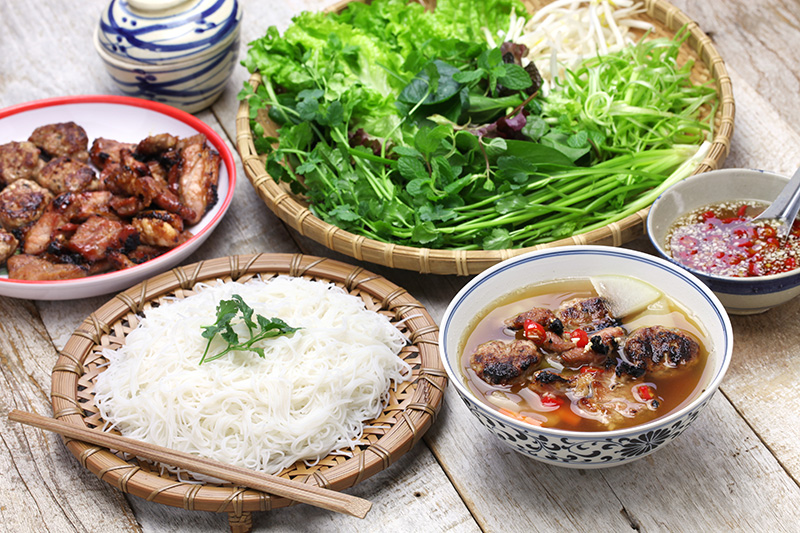 Lunch time: Start from 11: 30 – 14:30 around 4km on foot
Dinner time: Start from 18.00 to 21.00 around 4km on foot
At 11.30 (or 18.00), our tour guide will welcome you at hotel lobby, then start walking tour in old quarter "36 streets" to visit some famous and specialized- food families or stalls/ local restaurants, shops where they run their business every day, certainly you will watch and taste some particular dishes (Please let us know you are vegetarian or special requirement)
The old quarter in Hanoi is over one thousand years old and today retains much of the old flavor that made the area special in earlier times, each street was the exclusive domain of one trade (guilds) so there are whole streets of blacksmiths, silver shops, paper shops, headstone makers and more. Originally there were just 36 streets in the old quarter but today there are more than 50 streets. Although many of the streets are short, and the area is rather compact.
It is very difficult to find some local food on your own in hidden alleys or sidewalks, certainly the best way to make it easy is joining with us, taking part in this special tour to learn about Vietnamese cuisine, culture, people and language. After all, Vietnamese Street Food will give you an unique experience to try the foods of the local Hanoi people, We ensure the food is handled hygienically and provide a comfortable venue for the tastings. The benefit also goes back to the vendors or restaurants/ families as we buy directly from them.
Notes: Vietnamese Street Foot tour is focusing on street food stalls as well as lovely mini restaurants (not luxury restaurants), certainly they are experienced and appreciated by our local experts every day, you'll keep on ordering food as long as you keep eating, suggestion that you should taste a little bit each place, then the next.
Including features:
English-speaking guide
Food costs
Sight-seeing tickets
Bottled water.
Price:
For 2 persons: 35$ / person
For 4 persons: 30$ / person
For 6 persons: 25$ / person
3. HALF-DAY SHOPPING TOUR IN HANOI
Hanoi is one of the best places to shop in Vietnam, but with so much choice, it's hard to know where to start. On this 4-hour shopping tour of Hanoi, you'll explore the shops and markets of Hanoi's Old Quarter, browse the elegant boutiques of the French Quarter, and visit non-profit organisations that produce some of Vietnam's finest handicrafts. Hotel pickup and drop-off is included.
Highlights
4-hour shopping tour of Hanoi
Explore the shops and markets of the Old Quarter and the French Quarter
Shop for traditional handicrafts such as silk, lacquer ware, and embroidery
Get the inside scoop on shopping in Hanoi from an expert guide
Hotel pickup and drop-off included
Choice of morning or afternoon departure
Small-group tour limited to 10 people ensures a personalised experience
What You Can Expect Shopping tour in Hanoi City
Your tour begins with pickup from your central Hanoi hotel in time for an 8am or 1pm departure (depending on tour option chosen). After meeting your guide and small group of up to 10 people, set out to explore Hanoi's shopping hotspots. Start with a visit to Hong Ngoc, a non-profit collective that provides vocational training and jobs to disabled people. Spend some time browsing the store and shopping for traditional handicrafts and souvenirs including silk products, gemstone jewelry, marble sculptures, clothing, and handbags.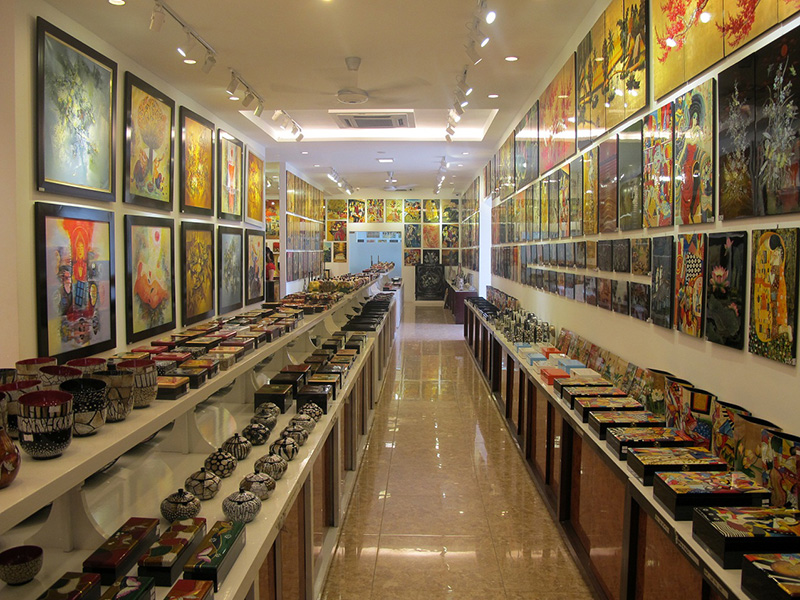 Continue to the Thu Huong Lacquer Ware Shop, where you'll have chance to watch demonstrations of the traditional art of lacquer making, and shop for beautifully decorated homewares. Next, step out on a walking tour of Hanoi's atmospheric Old Quarter, stopping to browse the local markets, souvenir shops, and art galleries. Finally, stroll down the elegant boulevards of the French Quarter, where you'll have time for shopping along busy Trang Tien. After a morning or afternoon shopping in Hanoi, your tour ends with drop-off at your hotel.
Price: from USD36