Hasty motorcyclists weave their way through the cramped streets, expertly avoiding crossing pedestrians, as friendly shopkeepers and smiling vendors tout their colorful merchandise to fearless tourists eager to haggle or take a quick, if cheesy, photo. On the narrow sidewalks are rows of scooters and motorcycles neatly arranged between food stalls and temporary outdoor dining setups, which are reminiscent of cafes in France except with tinier tables and ridiculously short plastic stools.
This is the everyday scene in the Old Quarter, the core of Hanoi's historic commerce and trade. Its puzzling zigzagging roads bare witness to the nonstop hustle and mad dashes that date back hundreds of years.
Over the years, however, the Old Quarter has adopted another persona, one of the gastronomic kind. Today, the Old Quarter is the center of the city's street food scene and the venue for cafes, restaurants and small food joints as well as a port of call for gourmands from all over the world. Stir your appetite with these five Old Quarter spots for the best foodie fix in the Vietnamese capital.
1. Bún Bò Nam Bo
Look for a blue awning with red tulips and modern store sign of a darker blue shade along Hang Dieu Street, and you'll find yourself at a must stop food joint in the city. The modest interior, shared-table furnishing and devil-may-care attitude of this tiny restaurant in Old Quarter may not betray its solid reputation, but the simple fact is this: Bún Bò Nam Bo is one of Hanoi's best and favorite spots for refueling, even getting nods from both Fodor's Travel and TripAdvisor.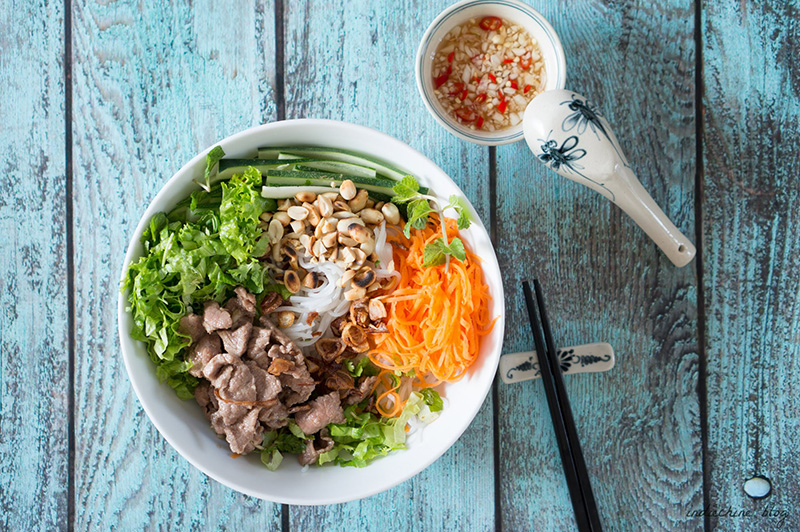 The menu here is as small as the place itself, with only a few drinks and five food options available. The obvious choice, of course, is the traditional vermicelli dish the restaurant is named after. The bún bò nam bo (Southern-style beef noodle salad)—essentially a delightful concoction of rice noodles, grilled marinated beef, fresh veggies, fish sauce and roasted peanuts—served here is one of the best in the city. And around $2.70 for a big bowl, you'll definitely get a lot of bang for your buck and then some!
2. Bún Chả Hương Liên
What happens when Anthony Bourdain and President Obama enjoy a night out in Hanoi? A gastronomic frenzy that yields Obama-inspired meal combos and has Western tourists descending on a local haunt that's now plastered with vignettes of the iconic moment … whether this is a good or a bad thing remains to be seen. What is clear is this: you cannot leave Hanoi without feasting on Bún Chả Hương Liên's now world-famous bún cho while rubbing elbows with the locals.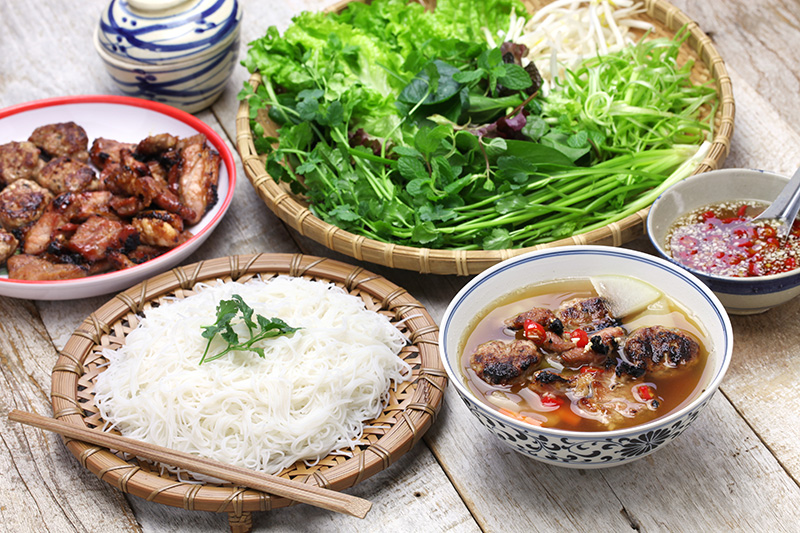 This two-story restaurant may overwhelm at first with its frantic atmosphere, its overall messy state and the unceremonious way the servers point you to an empty table and take your order. But once you settle into that large bowl of grilled pork belly and ground pork patties mixed with light rice noodles, fresh herbs and pickled papaya in mouthwatering broth, with crab egg rolls and Hanoi beer on the side, you'll stop caring about anything else.
3. Bánh Mì 25
There's an art to making banh mì sandwiches, at least as far as Phuong Dong is concerned. The friendly owner of Bánh Mì 25, the famous family-run sandwich stand that his very own grandfather started, and his family not only cook the pâté and sandwich meats themselves, they also bake their own bread fresh every three hours, the ingredients of which slightly vary depending on Hanoi's constantly changing weather. It's a serious matter to Phuong, who believes this is the main reason why his banh mìs are better than anywhere else in the city.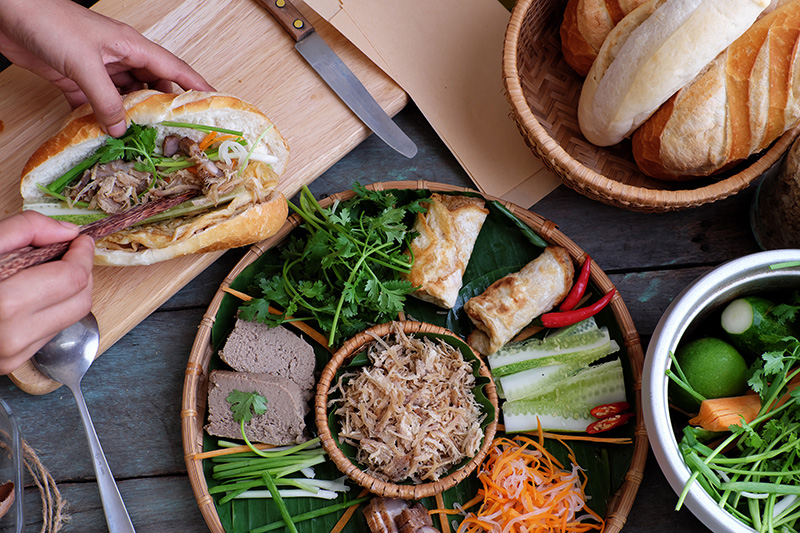 Their spot is completely unassuming, just a roadside one-person stand and three small tables with stools right next to it, but their banh mìs are incredible. The bread is indeed fresh and perfectly baked, the veggies crispy, and the pâté and meats fantastic. No wonder it's been heralded as the best in Hanoi. And each customer gets a free glass of delicious iced tea. It can't get better than that!
4. Pho Gia Truyen
To be perfectly honest, Pho Gia Truyen is not the most welcoming place or the most accommodating. But when you consider the line pouring out into the street and the quick and efficient way they deliver their pho, you'll quite easily forgive them for those shortcomings. And that's besides the fact that Pho Gia Truyen, a pho joint loved by locals and frequented by travelers, makes some of the most wonderful and comforting steaming bowls of pho in the Vietnamese capital. That's saying a lot considering that pho is easily the most served dish there.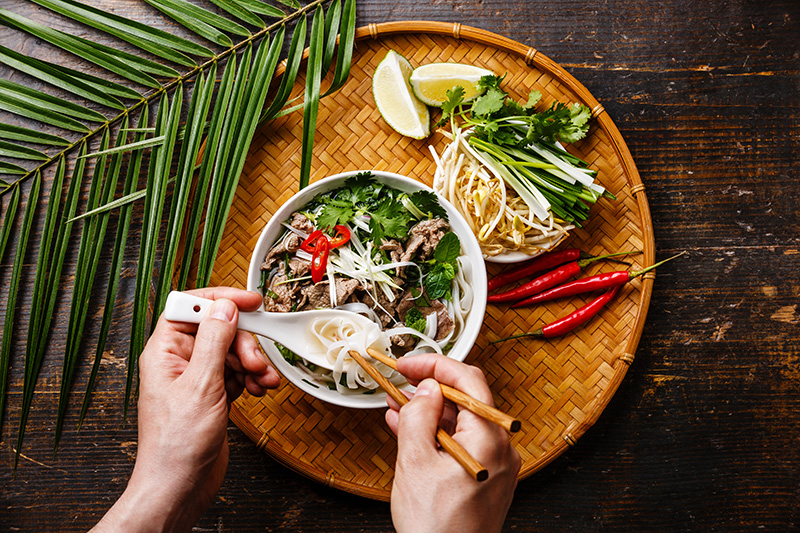 It's a cash-only type of place whose four-person staff has zero patience for indecisive customers, so it's absolutely recommended that you already know what you want before getting in line. It isn't hard as there are only three items on offer, all of which are less than $3. Be sure to secure a table first before you order … that is if you'd rather not look for one whilst carrying a hot bowl of soup.
5. Cafe Pho Co
If you're a coffee lover—or really, even if you're not—you shouldn't miss out on the coffee drink wonder that is the Vietnamese iced coffee with milk. It's a delicious and chocolaty concoction that is one of the Vietnamese cuisine's greatest joys. A fantastic place to try it is Cafe Pho Co, another Fodor's Choice recommendation. The fact that this Old Quarter cafe's entrance is hidden away behind a small store and a narrow hallway, making it slightly hard to find, doesn't stop both locals and travelers from coming here. In fact, it only complements its paradise-like lobby, which is lush with plants, and decorated with several birdcages and small statues.
Order the Vietnamese iced coffee—or an iced egg coffee or a fruit juice, as they have several types of drinks on offer—and make your way all the way to the fourth floor. There you can sip your delicious drink as you enjoy an amazing and incredibly relaxing view of Hoàn Kiem Lake.
6. Goi Cuon (Vietnamese Fresh Spring Rolls)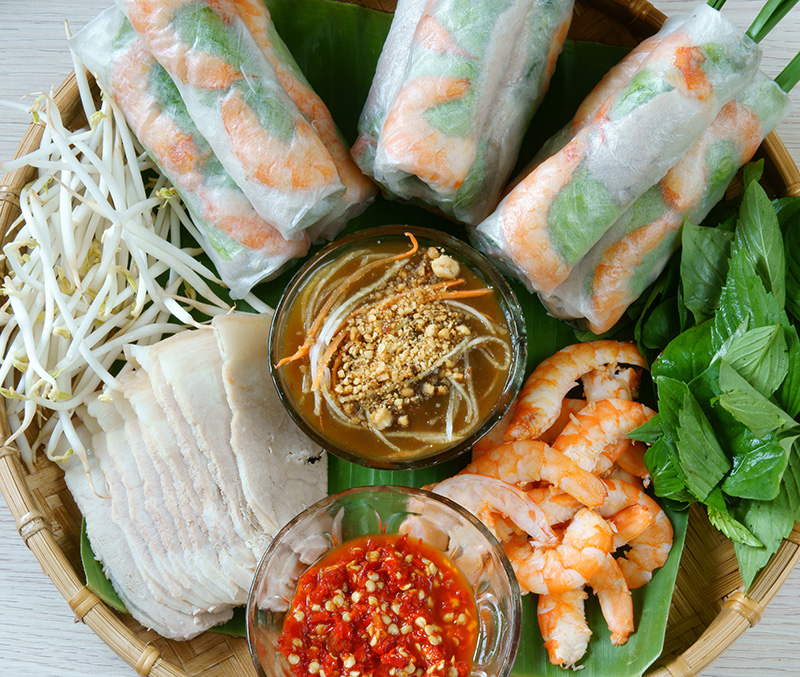 Goi cuon (Vietnamese fresh spring rolls) consist of thin vermicelli noodles, pork slices, shrimp, basil, and lettuce, all tightly wrapped in translucent banh trang (rice papers). Due to its subtle flavour, goi cuon is usually dipped into ground chillies and a hoisin-based dipping sauce topped with crushed peanuts. This popular snack or appetiser is also a healthier alternative to cha gio, which is a deep-fried egg roll made with a combination of mung bean noodles, minced pork, and various spices.
7. Bun Thit Nuong (Vermicelli Noodles With Grilled Pork)
Bun thit nuong comprises thin vermicelli rice noodles, chopped lettuce, sliced cucumber, bean sprouts, pickled daikon, basil, chopped peanuts, and mint, topped with grilled pork shoulder. Unlike most noodle dishes, it doesn't come in a soup or broth, but with a side of nuoc cham sauce for diners to mix into for a flavourful ensemble. While bun thit nuong is quite filling on its own, you can also try another variation called bun thit nuong cha gio, which is topped with sliced cha gio (deep-fried Vietnamese spring rolls).
8. Banh Cuon (Rolled Cake)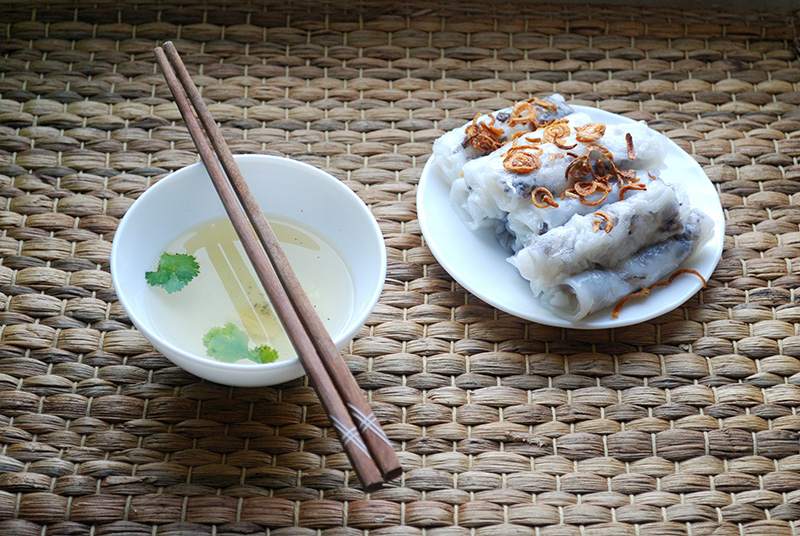 Also known as rolled cake, banh cuon is great for when you're feeling peckish whilst sightseeing in Vietnam. A combination of ground meat (chicken, shrimp, or pork), minced wood ear mushroom, onions, Vietnamese ham (cha lua), steamed beansprouts, and cucumbers that's wrapped in a steamed rice flour sheet, its overall taste is surprisingly mild despite the savoury ingredients. For added flavour, you can dip the banh cuon into nuoc cham sauce. Due to its popularity amongst travellers, you can easily spot plenty of roadside vendors selling banh cuon close to tourist sights and nightlife districts.
9. Xoi Xeo (Sweet Sticky Rice)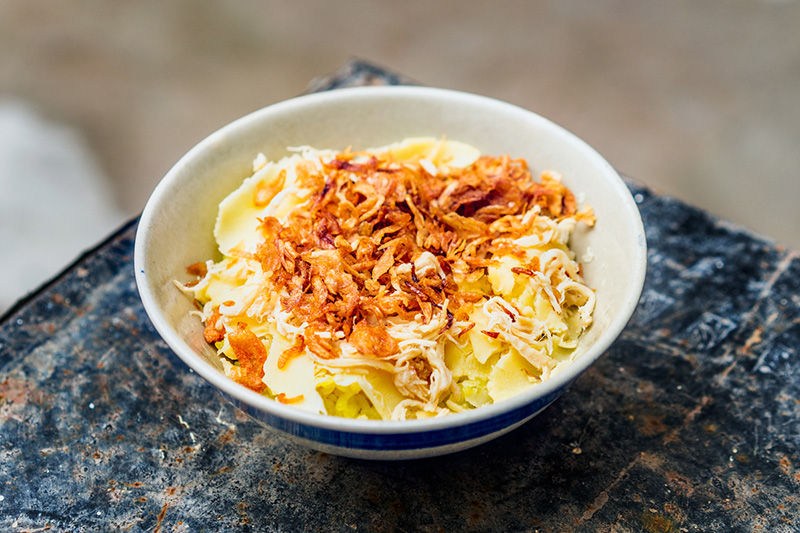 Xoi xeo is a sweet-savoury Vietnamese snack that's typically topped with green mung bean paste, soy sauce, and dried shallots. For a more substantial meal, many restaurants now offer a variety of ingredients such as pate, boiled chicken, cha lua (Vietnamese ham), marinated pork belly, or preserved eggs. A basic bowl typically costs VND 15,000, while add-ins range between VND 15,000 and VND 30,000. Xoi xeo can also be enjoyed for dessert, which consists of dried coconut shavings, roasted sesame seeds, and crystallised sugar.