Hanoi gastronomy and cuisine have grown to be the big magnet that attracts many tourists coming to the capital of Vietnam. Want to keep the love fires burning till the old age? It's your turn to take the Cooking Class in Hanoi created particularly for the foreigners that arrive at Hanoi. Before you head back to the homeland, learn how to please your mate with the fantastic Vietnamese cooking recipe. So now, note down a memo on a piece of paper that Hanoi Cooking Class is a must-enjoy experience. Let's discover briefly activities' Cooking Class in Hanoi, Vietnam!
You will be picked up in the morning/ afternoon and transferred to the Cooking Class center restaurant, here you will enjoy learning Vietnamese cuisine cooking. A brief introduction to Vietnamese cuisine will be given, highlighting the contents of a traditional Vietnamese meal. Then take a short walk to Dong Xuan market or one of market in Hanoi old quarter, where you will be shown around by the Chef who will highlight the interesting goods on sale. Upon arriving back at the restaurant, the cooking class in Hanoi will begin and you will be able to sample some local goods, as well as getting all of the recipes printed for you to take home. You will receive step-by-step cooking instruction from experienced restaurant chefs. On completion of the cooking class, enjoy the meal you have prepared. This gives you a chance to chat to the chef in the comfort of restaurant the dining area and enjoy a drink whilst you relax. After the lesson receive certificates in cooking class in Hanoi and you can also purchase some of the Vietnamese spices, tools and books that you have used during the day.
The below are 5 Best Cooking Classes in Hanoi for your reference:
Red Bean Cooking class
Red Bean Cooking Classes are offered every day of the week start at: 10:30 – 14:00 OR 14.30 – 18.00 (including market tour). The classes are an interactive and fun way to learn new cooking skills and experience the tastes and textures of authentic Vietnamese cuisine. At your own workstation in the kitchens, you will prepare dishes under the guidance of experienced chefs. Each workshop will conclude with you eating a meal prepared and cooked by yourself and accompanied by local beer or wine, in our comfortable dining area.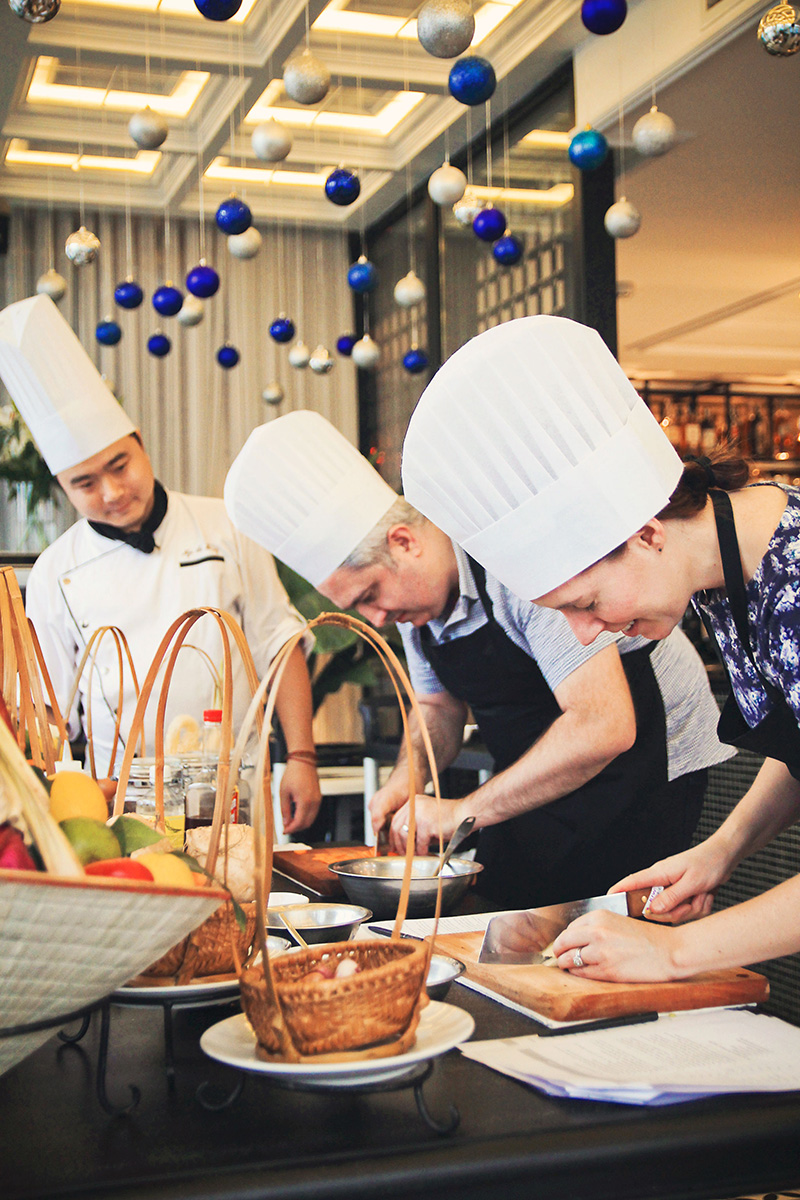 Price:
For 01 person: 65US$ per person
For 02 person: 55US$ per person
For 03 person: 45US$ per person
Children over 12 years old charged adult price
Children under 12 years old: US$15.00 per child (Accompanied by a parent)
BRANCH 1: REDBEAN RESTAURANT CLASSIC
BRANCH 2: REDBEAN RESTAURANT TRENDY
Add – 12 Nguyen Quang Bich Street, Hoan Kiem, Hanoi
Tel: (+84-24) 3923 4026 Ext. 8800
Fax: (+84 24) 3935 1636
Email: csm@redbeanrestaurant.com
BRANCH 3:RED BEAN CENTRAL RESTAURANT
Hanoi Cooking Center
The center provides daily cooking classes. First, you will come to the local Market to buy the needy ingredients and learn to choose fresh foods. You are taught to prepare for the cooking process by the professional chefs. Once the food is done, you savor the self-made dishes. Pleasantly, the best dish will be awarded. Also, you get the detailed recipe at the end of the class for the later practice. There are many cooking courses to enjoy in Hanoi Cooking Center such as Vietnamese cuisine, cooking class for kids, street food discovery, etc. The fee for each course is about $45USD/person.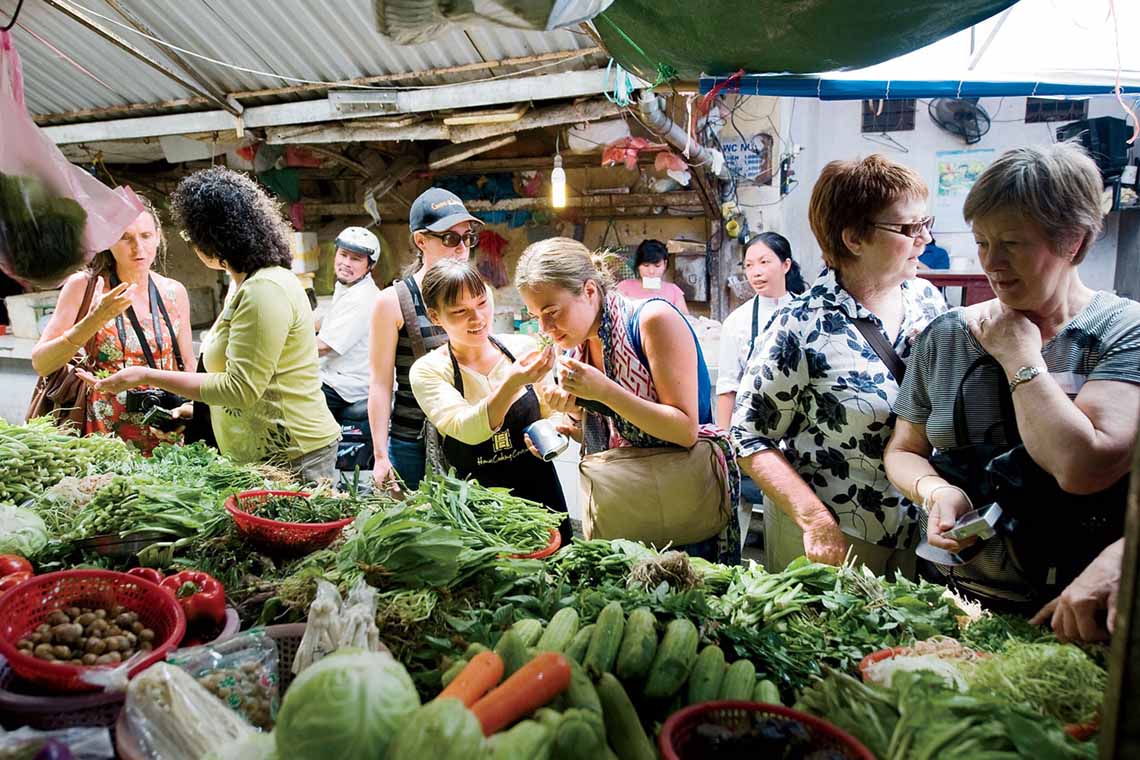 Address: 44 Chau Long, Ba Dinh, Hanoi
Tele: (+84-243) 715.0088
Old Hanoi
Daily Class and Private Class are found in Old Hanoi. Daily Cooking Class lets you enjoy cooking in a tropical garden in the heart of Hanoi. Before that, you go to the local market to buy various ingredients for a daily family meal. Private Cooking Class helps you create the best-suited Vietnamese dish and prepare a special feast for the loved ones. The chef will guide you how to cook several simple and popular dishes in Vietnam. It gives you the truly exciting cultural discovery.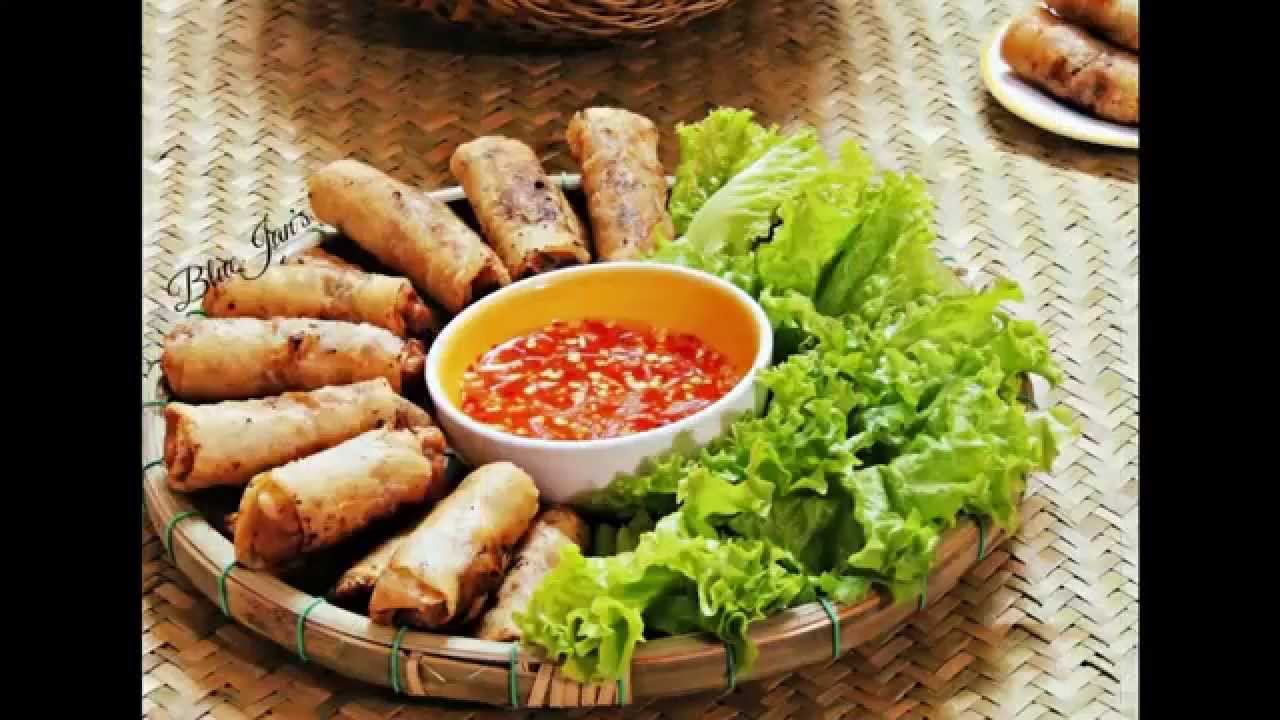 Address: 18 Ton That Thiep Street, Ba Dinh Dist, Hanoi, Vietnam
Tel: (+84-243) 7478337
Hoa Sua School
The cooking school is uniquely built and promoted as a vocational training center for the disadvantaged youth. Besides, it does provide Vietnamese Cooking Classes for the foreigners to Hanoi. Meaningfully, the earnings of the classes are used to cover the school's operating charges. Besides cooking, the culinary tourists can also do voluntary jobs and bring happiness to the disabled students.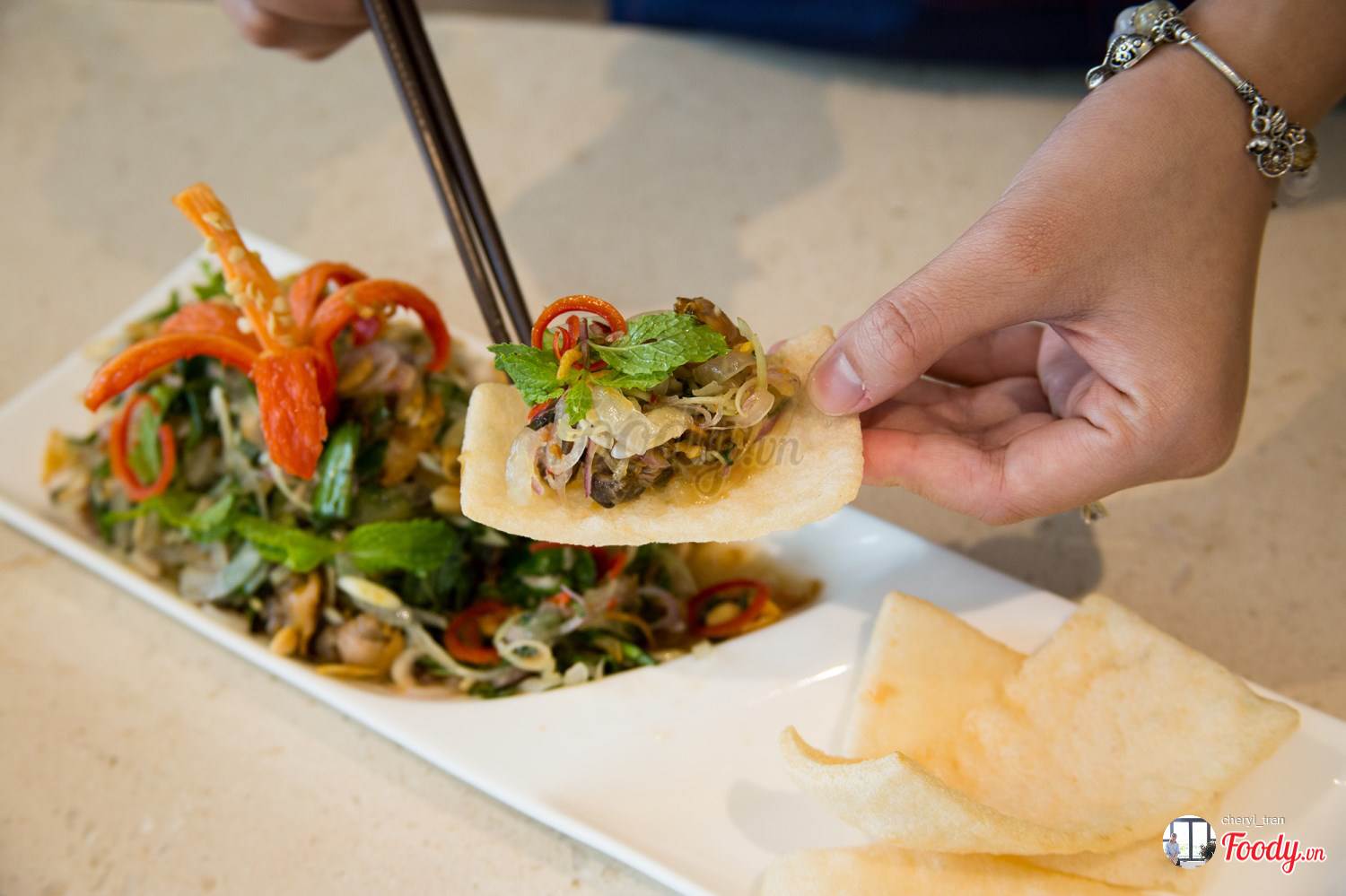 Address: Ngoc Hoi, Hoan Kiem, Hanoi
Tel: (+84-243) 942.4448
Highway4
It is the well-known restaurant in Hanoi that has been praised by many rave reviews from both foreign and national press. Highway4 provides the private cooking classes in Hanoi and the market tours. Their aims are to give the foreigners the new insights about Vietnamese cuisine and make the Hanoi Tour a memorable experience. The cuisine fanciers can join the classes, practice cooking the Vietnamese dishes, and savor them.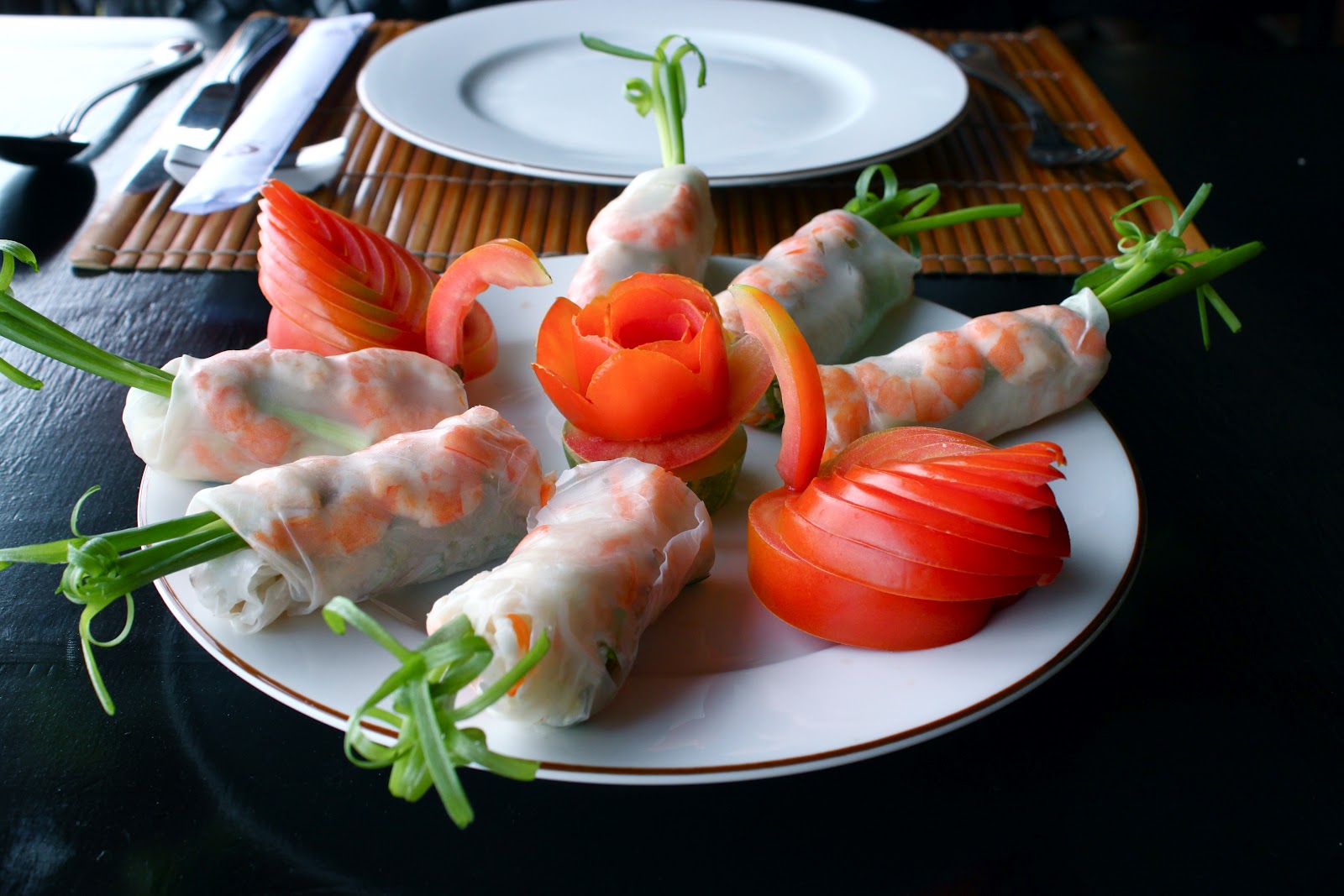 Address: 5 Hang Tre, Hoan Kiem, Hanoi
Tel: (+84-243) 926.4200
Anh Tuyet
If you are looking for the REAL traditional Hanoi cuisine, do not miss cooking class with Anh Tuyet culinary artist. "Ms Tuyet's restaurant and her delicate dishes are part of Viet Nam's cultural heritage. The old quarter, ancient homes, traditional dishes and a friendly atmosphere all make Ms Tuyet's a place that cannot be found anywhere else," Anthony Bourdan – a well-known cook in Manhattan said. Read full tips on Mrs.Pham Anh Tuyet Culinary Artist here!